19th December 2005
00:00
My latest project finds me playing around with Web 2.0 technologies to create a web based RSS reader.
Whilst creating this, I discovered that my feeds were not being returned as valid xml. This has now been fixed.
Read and add comments
Back to top
16th December 2005
00:00

In part one of this series of articles I will demonstrate how easy it is to buy digital music from Apple's iTunes music store.
This article covers both Windows and Mac configurations. Included below are step by step instructions on how to install, setup and make your first purchase.
Read entire entry...
Back to top
29th October 2005
00:00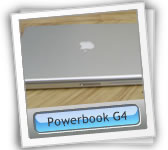 Ive now got a gallery up containing pictures of my new Apple Powerbook.
I'll post some sort of write-up on this when I have been using the laptop for a week or so.
click here to visit the Powerbook Gallery
Read and add comments
Back to top
27th October 2005
00:00
I finally had the money through for my new Powerbook this week and ordered the 15 inch model off the Apple website yesterday morning.
I expected the wait to be a week or two from past experience ordering my iMac last year (which shipped from Shanghai and travelled around most of Europe before getting to me). Imagine my surprise when the parcel tracker told me it is being delivered today!
All I can say is way to go Apple...
Read and add comments
Back to top