15th June 2004
00:00
Mozilla.org has released the latest version of their ground-breaking web browser Firefox. New in this release is: Extension Manager, Theme Manager, Data Migration/Import, New Visual Theme, Better Bookmarks, Better Search, Smaller Download, Online Help.
Personally i love this browser, it makes both my job and my life easier in so many different ways.
Read and add comments
Back to top
10th June 2004
00:00
Ok, so the release candidate of Firefox 0.9 is out there, amongst the many changes and bugfixes the first thing anybody who has used firefox before is going to notice is the icons. The original "Qute" theme by Arvid Axelsson has been replaced by something called "Winstripe".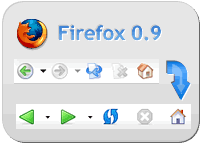 This is because Arvid did not want to alter the license of his theme to LGPL. Yes, the theme looks less polished than the Qute theme, but the Firefox developers had little choice in the matter and the main developer of the new skin calls it a 0.1 version.
Myself, i think there is a lot of scope for the new skin. The icons need fleshing out a bit and the vertical drop shadows are awful, but it is nice and clean. Mac users have been looking at a variation of this theme for the last few versions of Firefox anyway.
Until this theme reaches maturity however, i believe i will be designing my own skin which i will post here when completed.
Read and add comments
Back to top
9th June 2004
00:00
Well, ive just about finished the new mix cd. Joon Choons 2004 (the title is a long running joke between me and some friends) will be released shortly. Ive managed to cram some of the best house tracks since last October onto two cds. As always, you can view the cover and tracklist in the mix cd section under music.
Sticking with the music section, ive finally gotten around to coding the track database. This links each track to a track data page so you can see tracks by the same artist, what cd /s they feature on and other information.
Read and add comments
Back to top
9th June 2004
00:00
Ive been busy trying to bring the site up to scratch over the last couple of days. Im rather proud of the new comments system. You can now post a comment on every news post on the site by clicking the link underneath the post. All comments are first sent to my email to verify the content (I dont want to get sued or display offensive comments), when i then click a link, they are made active.
There is also an RSS feed available from the right hand menu, lots and lots of fixes to pages to get them working in all browsers, some half meaningful content on the services, resources and projects pages, and the addition of the codeyard and the still experimental cv page (it will look horrible in IE).
Read and add comments
Back to top