27th October 2004
00:00
Ive got a new mix cd out. Its another double cd packed to the brims with funky house music. The new cd features great new house tracks such as Deep Dish - Flashdance, Armand Van Helden - My My My and tracks by artists such as Stonebridge, Full Intention, Basement Jaxx , Michael Gray, Scissor Sisters and Steve Angello. Check it out in the music > mix cd section.

Also new is the feature in the mix cd section to query what remixes by an artist have been featured on my past cds.
To try this feature out, just click on an artist from one of the cds and you will be shown a page with the artists previous tracks and remixes.
iMac update!
My iMac has finally left Apples factory in Shanghai. It left on the 23rd and is booked on a flight to Holland on the 28th. This means that after cruising through Holland, The Netherlands and Luxemburg it should be with me sometime next week.
Read and add comments
Back to top
20th October 2004
00:00
Ive just completed a new feature for the site: Image Galleries. At the moment there are only two; this years adventure over in Aiya Napa and Escape in the Park 2004, I will be adding more as I take more photos (most noteably when my iMac arrives :) ). To find the galleries go to the resources section or click here
Read and add comments
Back to top
6th October 2004
00:00
Just ordered my new iMac G5 from apple.com with bluetooth keyboard & mouse and an airport express card. I decided to go for the 17inch 1.6ghz version, but upped the ram to 512mb.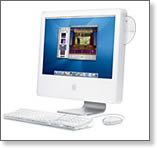 So why have I bought a Mac? Ive wanted one every since I was given one in work. things "Just Work" on a mac as opposed to Windows. A major deciding factor was the complete lack of wires. Just plug in the power and away you go!
I will post some pictures of it when it arrives, which according to Apple should be 3-4 weeks from now (on or before 3/11/2004).
Read and add comments
Back to top
2nd October 2004
00:00
So, many parts of the site still arent complete. Why? I recently had to re-install my home machine because of hard disk troubles... Unfortunately, i lost a lot of the work i had put into the site but not put live. Doh! That stuff is now gone for good and i'll have to do it again.
Read and add comments
Back to top