6th May 2004
00:00
Its been quite a busy week. Ive been working hard on cmpdesigns.com all this week since I currently have no car, therefore im stuck in the house until I pick up the new car. Incidentally I should be picking my new car on Saturday from Manchester (about 250 miles away!). Its a 2002 Toyota Celica.
Over to the site updates, I dont know where to start. Ive overhauled the entire site and rewritten it using css2 and xhtml and tried to make it accessible as possible. There is still a lot of work to do, you may find some dead links or some pages that currently do not do what they are supposed to.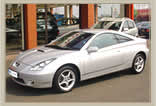 I have tried to keep the markup of the site as semantically correct as possible although it is far from perfect. Current live, fully working pages include: Portfolio, Music, Mix CD Tracklistings and the CodeYard (although it is rather empty at the moment).
There is quite a story behind the redesign of the site, I was never happy with the previous design which was why it was never completed. The previous design was version 21, this is 24a. I am planning to create a history page for the site to show its evolution (and sometimes devolution) over the past few years (keep in mind that the site version before 21 was 3!). I hope to update here when more pages are complete.
Read and add comments
Back to top
21st April 2004
00:00
Ive released a new Trance mix CD. Trance 2004: April Edition (imaginative name yeh?). To view the tracklist and cover, visit the Mix CD page in the music section
Read and add comments
Back to top
21st February 2004
00:00
The site is undergoing a heavy re-design with extensive thought for accessibility and ease of use. The new site uses CSS2 layout techniques to more than half the size of most pages and will display the content in almost any browser and platform.
Read and add comments
Back to top
21st October 2003
00:00
If you head on over to the Nexus website, you will see a newly designed site. Ive also added this and another site to my online portfolio and completed the Codeyard and WebSearch sections of this site. More to follow. . .
Read and add comments
Back to top