16th December 2005
00:00
Back to journal
Introduction & Contents
In part one of this series of articles I will demonstrate how easy it is to buy digital music from Apple's iTunes music store. This article covers both Windows and Mac configurations. Included below are step by step instructions on how to install, setup and make your first purchase.
Further articles will go into more detail on some of iTunes more advanced features.
Contents
A Little History…
In 2001, Apple took the world by storm when it released its iPod music player. The iPod was revolutionary at the time because it was one of the first devices that used a hard drive to store music as opposed to the usual flash based storage. This allowed you to store thousands more music tracks (the first iPod had 5GB of storage and could hold 1000 tracks at CD quality. Most players at this time were capable of holding only 30 to 40 tracks).
While not the first device of its kind, the iPod was revolutionary in part because of the simple, easy to use interface and the stunning design. (Most MP3 players at this time simply looked like little metal boxes with lots and lots of buttons).
The iTunes software was available for over half a year before the original iPod was released, initially only for the Macintosh operating system. The application finally found its true purpose in October 2001 when the iPod was launched.
Over the years, the design and storage capacities of the iPod has improved, to the point where the top of the range video capable iPod of today is able to store up to 15000 music tracks and is capable of storing photos and videos. It is even possible to connect your iPod to your TV to view photo slideshows and videos.
In 2005 Apple released the iPod Nano; a device only 9cm tall, half a centimetre thick, and able to store up to 1000 music tracks. This is one of the hottest products of Christmas 2005 and is increasingly difficult to get hold of. (quick tip: http://www.ebuyer.com had loads in stock at the time of writing.)
Downloading & Installing…
Back to Top
Lets assume that you own an iPod or simply wish to download music to listen to on your computer. There are many online stores that offer digital music downloads but very few offer tracks compatible with the iPod, and include such easy to use interfaces as iTunes; for this reason, the rest of the article will focus on iTunes and in particular, the iTunes music store.
Where to begin? Unlike some online music stores, you are only able to buy tracks from iTunes through the iTunes application. Although some web sites may offer direct links to albums and tracks, you will need to have iTunes installed on your computer to be able to purchase anything. You will also need an iTunes/Apple account.
If you own an Apple computer you are in luck; chances are iTunes is already installed on your machine and you can skip this section (although you might want to check you have the latest version).
The first thing you need to do is open your web browser and navigate to http://www.apple.com/itunes/download and click the download button. The time taken to download will depend on the speed of your Internet connection but if you have broadband it shouldn't't take long. Please note that you need to have Windows 2000, XP or Mac OS X installed on your machine to run iTunes.

Once iTunes has finished downloading, double click the setup file to begin the installation. Click the next button until the installer displays a progress bar and finally click the finish button when it appears. iTunes is now installed on your computer.
Depending on your computer configuration you should now see an icon to open iTunes on your computer desktop. On Windows, the icon will appear on your desktop. Mac OS X users will find the icon in their dock at the bottom of the screen. Click (or double click) the icon to load up itunes.


Running iTunes for the First Time...
Back to Top
The first time you run iTunes, you will need to answer a few questions so that iTunes knows where your existing music is stored and where it should store any purchased music. iTunes includes a sophisticated but simple to use interface to locate and manage your music library. (This falls outside the scope of this article but you should be able to find help online or in the iTunes help file).
You are first asked to agree to the iTunes license agreement. You must click "agree" to continue. A "wizard" is then displayed to help you set up iTunes.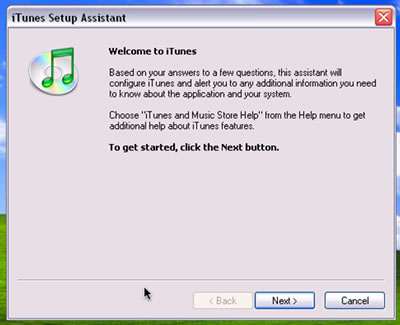 Click the next button to proceed through the setup utility. The "Find Music Files" screen is optional but I recommend leaving both checkboxes ticked so that iTunes can add all your existing music to the iTunes library.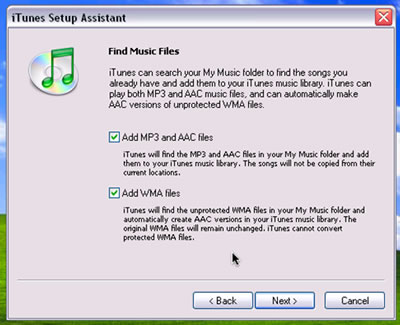 When the "Keep your iTunes Music Folder Organised" screen is shown, I highly recommend you leave the selection set to "No. I'll change the file and folder names myself" otherwise iTunes will move all of your existing music into its own folder hierarchy, which can be quite confusing. Click the next button to continue.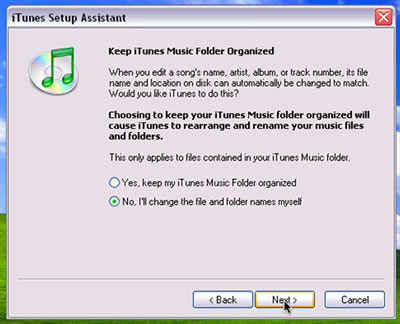 Your done! Simply click the finish button and iTunes will load up. Please note that you will never need to complete the preceding wizard screens again as your iTunes library is now configured. (You can still change the settings in the options panel).
You should now have a screen similar to the one below. If you are not automatically taken to the iTunes music store simply click the music store link in the left hand bar of the screen.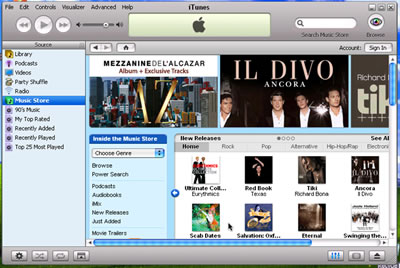 Purchasing Music…
Back to Top
Purchasing music from iTunes is easy. There are a number of ways to find the track you wish to buy.

You can type a track name or artist into the search bar at the top right of the screen (push enter to search once you have typed the name of the track or artist), you can select a genre to browse from the left hand side, you can simple click an album that is featured somewhere on the right hand side, or you can browse the top 100 tracks from the list at the right of the screen. There are other ways of searching, but im sure you will be able to find them yourself after playing around a little.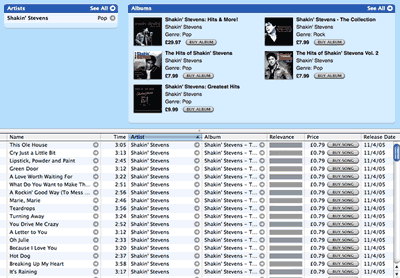 Before purchasing a track you are able to listen to a 30 second clip of the track so that you can be sure you are buying the correct track or simply to see if you like a track you have not heard before.

Simply double click a track name from the song list that appears at the bottom of the screen once you have selected an album or artist; or from the search results list. The track will start playing a 30 second clip and will appear in the lcd-like player area of iTunes at the top of the screen (See the image below).

Creating an account…
Back to Top
To purchase music from iTunes, you first need to create an account and associate a payment method with your account. This will save you from having to enter payment details everytime you purchase a track or album.
To begin, click the "sign in" button.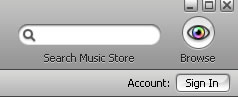 iTunes will pop up a box asking you to log in (this is where you will log in once you have created an account).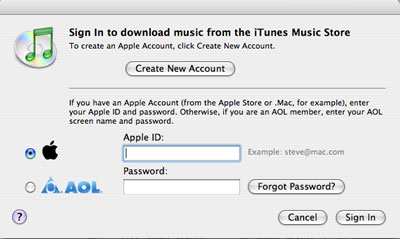 If you already have an Apple account, Apple Store account, Apple .Mac account or an AOL account, you can enter your login details here and you will only need to fill in payment information otherwise click the "Create New Account" button.
You will then be taken to a new screen within iTunes where you will be asked for details such as your email address, a password and a secret question that you can answer should you forget your login details. Remember to type in a valid email address because this address is used to send your receipts.
After filling these in, you are then taken to the payment details page where you can choose from a number of different card types or to use BT's "Clic Add a comment (27) Back to journal
Comments...
Post a comment
The comments on this site are posted immediately. However, the site administrator is sent an email notification with a link to remove the comment if deemed inappropriate.
This is to ensure that no offensive comments are left on the site. Please do not post any offensive or abusive comments as they will be removed immediately.