29th October 2005
00:00
Back to journal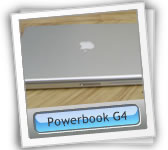 Ive now got a gallery up containing pictures of my new Apple Powerbook.
I'll post some sort of write-up on this when I have been using the laptop for a week or so.
click here to visit the Powerbook Gallery
Add a comment (2)
Back to journal
Comments...
Post a comment
The comments on this site are posted immediately. However, the site administrator is sent an email notification with a link to remove the comment if deemed inappropriate.
This is to ensure that no offensive comments are left on the site. Please do not post any offensive or abusive comments as they will be removed immediately.