6th May 2004
00:00
Back to journal
Its been quite a busy week. Ive been working hard on cmpdesigns.com all this week since I currently have no car, therefore im stuck in the house until I pick up the new car. Incidentally I should be picking my new car on Saturday from Manchester (about 250 miles away!). Its a 2002 Toyota Celica.
Over to the site updates, I dont know where to start. Ive overhauled the entire site and rewritten it using css2 and xhtml and tried to make it accessible as possible. There is still a lot of work to do, you may find some dead links or some pages that currently do not do what they are supposed to.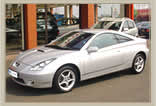 I have tried to keep the markup of the site as semantically correct as possible although it is far from perfect. Current live, fully working pages include: Portfolio, Music, Mix CD Tracklistings and the CodeYard (although it is rather empty at the moment).
There is quite a story behind the redesign of the site, I was never happy with the previous design which was why it was never completed. The previous design was version 21, this is 24a. I am planning to create a history page for the site to show its evolution (and sometimes devolution) over the past few years (keep in mind that the site version before 21 was 3!). I hope to update here when more pages are complete.
Add a comment (0)
Back to journal
Comments...
Post a comment
The comments on this site are posted immediately. However, the site administrator is sent an email notification with a link to remove the comment if deemed inappropriate.
This is to ensure that no offensive comments are left on the site. Please do not post any offensive or abusive comments as they will be removed immediately.