10th June 2004
00:00
Back to journal
Ok, so the release candidate of Firefox 0.9 is out there, amongst the many changes and bugfixes the first thing anybody who has used firefox before is going to notice is the icons. The original "Qute" theme by Arvid Axelsson has been replaced by something called "Winstripe".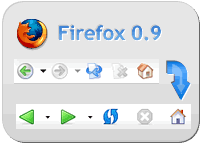 This is because Arvid did not want to alter the license of his theme to LGPL. Yes, the theme looks less polished than the Qute theme, but the Firefox developers had little choice in the matter and the main developer of the new skin calls it a 0.1 version.
Myself, i think there is a lot of scope for the new skin. The icons need fleshing out a bit and the vertical drop shadows are awful, but it is nice and clean. Mac users have been looking at a variation of this theme for the last few versions of Firefox anyway.
Until this theme reaches maturity however, i believe i will be designing my own skin which i will post here when completed.
Add a comment (1)
Back to journal
Comments...
Post a comment
The comments on this site are posted immediately. However, the site administrator is sent an email notification with a link to remove the comment if deemed inappropriate.
This is to ensure that no offensive comments are left on the site. Please do not post any offensive or abusive comments as they will be removed immediately.