6th October 2004
00:00
Back to journal
Just ordered my new iMac G5 from apple.com with bluetooth keyboard & mouse and an airport express card. I decided to go for the 17inch 1.6ghz version, but upped the ram to 512mb.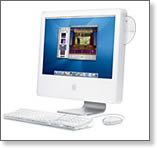 So why have I bought a Mac? Ive wanted one every since I was given one in work. things "Just Work" on a mac as opposed to Windows. A major deciding factor was the complete lack of wires. Just plug in the power and away you go!
I will post some pictures of it when it arrives, which according to Apple should be 3-4 weeks from now (on or before 3/11/2004).
Add a comment (1)
Back to journal
Comments...
Post a comment
The comments on this site are posted immediately. However, the site administrator is sent an email notification with a link to remove the comment if deemed inappropriate.
This is to ensure that no offensive comments are left on the site. Please do not post any offensive or abusive comments as they will be removed immediately.