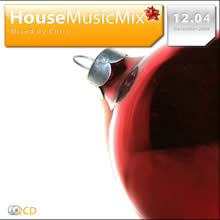 23 December 2004
House
Description
This mix CD was released on Christmas Eve (hence the bauble on the front cover). Another 2CD compilation of mixed house music.
The cd begins with some laid back tracks, progresses into more funky tracks and finishes with some harder stuff.

Navigation
Information
To view more information about an artist, including other tracks on some of my other mix CDs, click on the artist name.
To view more information about a track, including other mix CDs this track has been included on, click the track title.

© CHRIS PARKER, CMPDESIGNS.COM