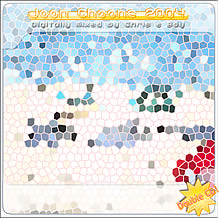 10 June 2004
House
Description
Joon Choons has become an annual joke between my friends and I now. This years CD is house only.
The cover is actually a photo of Nissi beach in Aiya Napa with some heavy filters applied. Mostly funky, but gets a bit more electronic towards the end.

Navigation
Information
To view more information about an artist, including other tracks on some of my other mix CDs, click on the artist name.
To view more information about a track, including other mix CDs this track has been included on, click the track title.

© CHRIS PARKER, CMPDESIGNS.COM