6th July 2005
00:00
Back to journal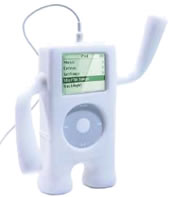 How cool is this. The iGuy is the most pointless but desirable iPod accessory ive come across so far. Heres the bumph from their website:
" Meet iGuy- the first bendable, posable friend for you and your iPod! Not only is iGuy fun, he's fully functional- offering great rubberized protection, docking capability, and screen protection for your iPod or iPod Photo. "
Speck have released the iGuy in the UK. Get yours from iPodWorld now! (ive ordered mine).
Add a comment (1)
Back to journal
Comments...
Post a comment
The comments on this site are posted immediately. However, the site administrator is sent an email notification with a link to remove the comment if deemed inappropriate.
This is to ensure that no offensive comments are left on the site. Please do not post any offensive or abusive comments as they will be removed immediately.