26th August 2005
00:00
Back to journal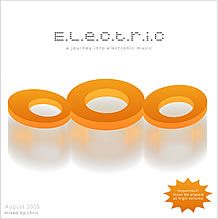 Ok, this is something new. For the last few CDs ive been dabbling with electronic sounding house music. Released today is the first cd filled entirely with this style.
Ok, so its no Space album, but hey, im no Jonathan Ulysses either. You know where to get a copy from.
Check out the tracklist by clicking the cd cover.
Add a comment (0)
Back to journal
Comments...
Post a comment
The comments on this site are posted immediately. However, the site administrator is sent an email notification with a link to remove the comment if deemed inappropriate.
This is to ensure that no offensive comments are left on the site. Please do not post any offensive or abusive comments as they will be removed immediately.