12th August 2005
00:00
Back to journal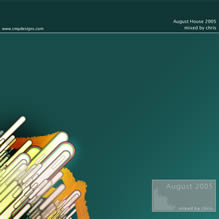 Ive finally added the finishing touches to the latest mix cd. My headphones are giving me jip at the moment, so dont expect anything fantastic mixing wise.
As usual the tunes are wicked, mostly funky house but with a few twisted track thrown on at the end for good measure.
Check it out by clicking the cd cover.
Add a comment (0)
Back to journal
Comments...
Post a comment
The comments on this site are posted immediately. However, the site administrator is sent an email notification with a link to remove the comment if deemed inappropriate.
This is to ensure that no offensive comments are left on the site. Please do not post any offensive or abusive comments as they will be removed immediately.