9th May 2005
00:00
Back to journal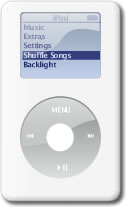 Yep, I finally succumbed. After months and months of saying "I don't need one, i don't need one" I finally went and ordered an iPod. My reasoning is that it could replace my 12disc changer in the car (the car kit will have to wait 'til next month though...).
To celebrate this fact (but mostly 'cos i was bored), I drew a little image of an iPod. Its not great, but it aint bad for 20mins work. Click it to view the bigger version.
By the way, the cheapest place online to get them is Pixmania (trust me, I looked everywhere), with a discount code, they offer free 24hr express delivery and were even cheaper than the Apple education store!
Add a comment (22)
Back to journal
Comments...
Post a comment
The comments on this site are posted immediately. However, the site administrator is sent an email notification with a link to remove the comment if deemed inappropriate.
This is to ensure that no offensive comments are left on the site. Please do not post any offensive or abusive comments as they will be removed immediately.